Hello, friends!
Today on Talk of Tales, I'm interviewing the one and only Fonda Lee, author of the epic urban fantasy trilogy, the Green Bone Saga! Fonda has joined us to answer some questions in preparation for the release of the final book in the trilogy, Jade Legacy, this month! It comes out on the 30th of November and I was lucky enough to receive an e-ARC from Orbit to review it early.
Not only do we have the creator of this fantastic world with us, but I have also invited some notable characters from the books for a fun little group interview!!! Stay tuned to find out the answers they gave me, it was so fun to go through these and I was only slightly (lie!) intimidated by one or two of these characters' answers…
Before we get into it though, if you haven't experienced the Green Bone Saga yet, start with Jade City, then Jade War, before you step into this upcoming explosion of a finale. Read an excerpt of Jade City, book 1 in the series, and/or buy the first 2 books. Check out the synopses and buy links below.
Now, let's dive into the star of the show: Jade Legacy, the last and final book in Green Bone Saga by Fonda Lee. (Although—spoiler alert!—we do hear if we're getting more of this world from Fonda in the interview!)
About the Author
Fonda Lee is a winner of the World Fantasy Award, as well as a three-time winner of the Aurora Award (Canada's national science fiction and fantasy award), and a multiple finalist for the Nebula Award, the Locus Award, and the Oregon Book Award. Her novels have garnered multiple starred reviews, been included on numerous state reading lists, named Junior Library Guild selections, and appeared on Best of Year lists from NPR, Barnes & Noble, Syfy Wire, and others. Jade City has been translated in multiple languages and optioned for television development.

In addition, she has written acclaimed short fiction and comic books for Marvel. She is a frequent speaker and instructor at writing workshops including Viable Paradise and Clarion West.

Fonda is a former corporate strategist and black belt martial artist who loves action movies and Eggs Benedict. Born and raised in Canada, she currently resides in Portland, Oregon.
About the Book
Title: Jade Legacy
Series: Book 3 in The Green Bone Saga Trilogy
Genre: Adult Urban Fantasy
Publication date: November 30th, 2021
Trigger/content warning: death, murder, graphic violence, grief, drug use, torture.
Add it to your Goodreads.
Synopsis:
The Kaul siblings battle rival clans for honor and jade in the epic conclusion of the World Fantasy Award-winning series, the Green Bone Saga.

Jade, the mysterious and magical substance once exclusive to the Green Bone warriors of Kekon, is now coveted throughout the world. Everyone wants access to the supernatural abilities it provides, from traditional forces such as governments, mercenaries, and criminal kingpins, to modern players, including doctors, athletes, and movie studios. As the struggle over the control of jade grows ever larger and more deadly, the Kaul family, and the ancient ways of the Kekonese Green Bones, will never be the same.

Battered by war and tragedy, the Kauls are plagued by resentments and old wounds as their adversaries are on the ascent and their country is riven by dangerous factions and foreign interference. The clan must discern allies from enemies, set aside bloody rivalries, and make terrible sacrifices… but even the unbreakable bonds of blood and loyalty may not be enough to ensure the survival of the Green Bone clans and the nation they are sworn to protect.

Interview with Fonda Lee
Hi, Fonda! Thanks for taking the time to join me on Talk of Tales today.
Jade Legacy is the highly anticipated conclusion to the Green Bone Saga trilogy that first debuted in 2017. How was this writing journey for you and how do you feel now that it's coming to an end soon this year?
It's hard to believe. The Green Bone Saga was such an ambitious project from the start that I'm a little stunned it's coming to an end. I'm happy, proud, relieved and also sad to leave. It's been an incredible journey, and I couldn't ask for more enthusiastic readers as the finale comes out.
The Green Bone Saga blurs genre boundaries and creates a world so unique that stands wholly and beautifully on its own. How has "cultural cross-pollination" influenced the fictional world in the trilogy as well as the aspects drawn from our real world?
The Green Bone Saga is itself a product of cultural cross-pollination because it's a blend of inspirations from both Western and Eastern media and storytelling: epic fantasy, American mafia films, wuxia, kung fu movies. So it was only natural that the blending of cultural influences that results in an Asian-American fantasy author like me would also be a theme in the books themselves. It was obvious to me that Kekonese people, Kekonese jade, and Kekonese culture would spread far beyond the borders of the island nation, and that different parts of the Kekonese diaspora would be distinct from each other. That's my lived reality, so I made it part of the books. You'll see the theme of cross-cultural influence come to the forefront even more strongly in Jade Legacy.
Even though the Green Bone Saga is bursting with epic gangster intrigue, politics, martial arts, and magic, it is ultimately a family saga at its core. What was the most challenging part in writing a multi-perspective story with morally ambiguous characters dealing with family history and pressures, and what was the most rewarding?
The most challenging part was simply keeping track of everyone and everything at all times. There were a lot of moving parts, not just in terms of the plot, but in terms of each character's development and circumstances. For example, in Jade War, I had keep abreast of what was going on with Anden in Espenia alongside all the events with the family in Janloon. I was always having to consider details like, "When did Kehn get married? Is Ru in school yet? How long has Lott Jin been a Finger and is he up for promotion by now?" And on and on.

The most rewarding part is how big and rich and real it all feels by the end. Especially the relationships between the characters. Because of the multiple perspectives, every main character has a view into every other main character and I felt like I had such a complete view of every one of them.
Crime and gang stories tend to lend themselves to a male-dominated narrative, but that's not the case with the Green Bone Saga. How did you strike a balance between extremities with creating women like Kaul Shae, Maik Wen, and Ayt Madashi, who all walk completely different paths while also drawing parallels there?
Every major character is an individual who has to serve a different purpose in the story, and it's their relationships to each other that show you who they are. It was easy for parallels to emerge between the female characters in the Green Bone Saga because all of them are women existing in the male-dominated world of Green Bones. So they're all subjected to the same broader social norms and gender roles. But they're also very different in background, circumstance, personality, goals and ambitions. One thing I think becomes clear over the course of the books is that there is no one way to be a Green Bone, nor is there one way to be a woman who's "green in the soul."
Jade City, the first book in the Green Bone Saga trilogy, took years in the making as a passion project of yours until you signed a deal for a trilogy. (YAY!) Did your original planning go as far as a trilogy or how the overall story arc would conclude?
When I wrote Jade City, I had no idea if it would sell as a single book, much less an entire trilogy. I knew it could easily be a trilogy, and I had a rough idea of where I wanted the story to go, but it wasn't until I landed a three-book deal that I began seriously planning the second and third books. Once I did though, I knew pretty early on what the end of Jade Legacy would be. The final chapter of Jade Legacy has been in my mind, almost entirely unchanged, for years.
You have mentioned before that you love seeding things into the story early on so you can later play with it. What are some of your favorite elements that this has happened with in the Green Bone Saga? Any that you didn't plan on or ones that surprised you?
There are a lot, but one example would be Eiten, a Fist who shows up under unfortunate circumstances in Jade City and who I didn't expect to see again. But lo and behold, he walks into Hilo's office near the beginning of Jade War. Later on in the book, he makes a pretty significant discovery for No Peak. And his grown daughter becomes friends with Kaul Jaya and makes an appearance in Jade Legacy. With a cast of characters this large, finding new ways that secondary characters contribute to or affect the clan is always satisfying. I didn't expect Woon Papidonwa to play such a large role and now I appreciate that man a lot.
There's a TV show—for the characters and world that you created—in the works! (Congrats!) What are some key aspects you'd like to see in the adaptation, whether that's setting, props, certain scenes, or anything at all?
I try not to get too emotionally invested in any one aspect of the TV adaptation because it's very much out of my control. What's most important to me is that the characters and the vision of the story stays intact. It would be amazing if the show brought together a stellar cast of Asian-American and Asian diaspora actors. And of course, I'd love to see some amazing jade-powered action sequences.
There's a lot of representation within the story of the Green Bone Saga, such as diaspora and disability. How was the process of approaching these topics for you and for the characters?
I always try to write as truthfully as possible. By that I mean I want my fictional world and the characters that inhabit it to feel as real as possible. They can't ever be one dimensional. Even the minor characters have to feel like real people to me. I do my research where necessary, I write the truth that I know from my own observations and lived experience, and I get out of the way of the story.
The Green Bone Saga has had an epic era; readers are excited for the finale, Jade Legacy, but also hungry for more! Can you tell us more about The Jade Setter of Janloon novella? Can we expect more from the world and/or characters of the GBS?
The Jade Setter of Janloon is a stand-alone novella set before the events of Jade City. It's a noir-ish mystery, with completely new characters that find themselves unexpectedly caught up in deadly clan dealings. Familiar characters from the main series make major appearances, including Kaul Lan, Kaul Hilo, the Maik brothers, Ayt Mada, and Gont Asch. I had a ton of fun writing another story in the Green Bone Saga world, but from the perspective of characters who aren't Green Bones of the major clans. I'm really proud of how it turned out.
 What's next for Fonda Lee? You've teased before about an Adult Space Opera story idea, a YA Sci-Fi one, and more… Is there anything you can tell us now?
I have a few projects on the go that I can't talk about yet, but there will be announcements made in 2022.
Thank you so, so much for being here, Fonda! Is there anything else you'd like to add?
Thank you for the interview!
Group Interview with GBS Family
Kaul Lanshinwan,
if you could give a piece of advice to each of your siblings, what would they be?
[laughs]
My siblings don't take my advice. Trust me, I've tried.

Hilo solves everything with strength and charisma but there are going to be times that's not enough, even for a Horn. He needs to learn to be more diplomatic, to lead with a cool head as well as his heart.

I wish Shae would relax a little and not try so hard to compete with Hilo. She would never admit it, but in her own way, that's what she does.

Anden, I think of as a brother as well, and he's young enough that he'll listen. I want him to grow up confident, not held back by family history, or mixed blood, or anything else.
Kaul Hiloshudon,
what is something you regret saying, or doing?
What kind of question is that? You have one question to ask, you ask that?

My little sister's very tough, very stubborn. We used to fight, sometimes we still do, but not as much as when we were kids. Looking back, we didn't need to be like that, but everyone's moody and insecure at that age.

We should always forgive the people we love, but when you're too hard on a person, even in your own family, maybe especially in your own family—sometimes they can't ever forget it. Shae acts like she doesn't care, but actually she can be quite soft and get hurt just like anyone else, even if she doesn't show it. She used to needle the fuck out of me, and what's past is past, but I should've tried harder not to lose my temper with her back then.
Kaul Shaelinsan,
if you could time-travel, would you go back to the past or forward into the future, and why?
I would go forward into the future. The past can't be changed, and even if it could be, everything that has happened before, good or bad, wise or foolish, is what makes us who we are now. I don't believe altering it is what the gods would intend. But the future is still to be determined. If we could glimpse what it might bring, then we still have a chance to shape it, hopefully for the better.
Emery Anden,
if you could design your role model, how would they be like?
No one's perfect, but my cousin, Kaul Lan, is the Pillar of the clan and when I'm unsure of something, I try to imagine what he would do.
Kaul Maik Wenruxian,
if you could only pick one, what would be your fondest memory?
Meeting my husband, and the time we spent together when we were young and first in love. Perhaps you'll think that's a dull, expected answer, but fewer women than one would think are fortunate enough to be able to say that. Why shouldn't I be honest about treasuring those memories?
Ayt Madashi,
if you could trade lives with anyone, who would it be, and why?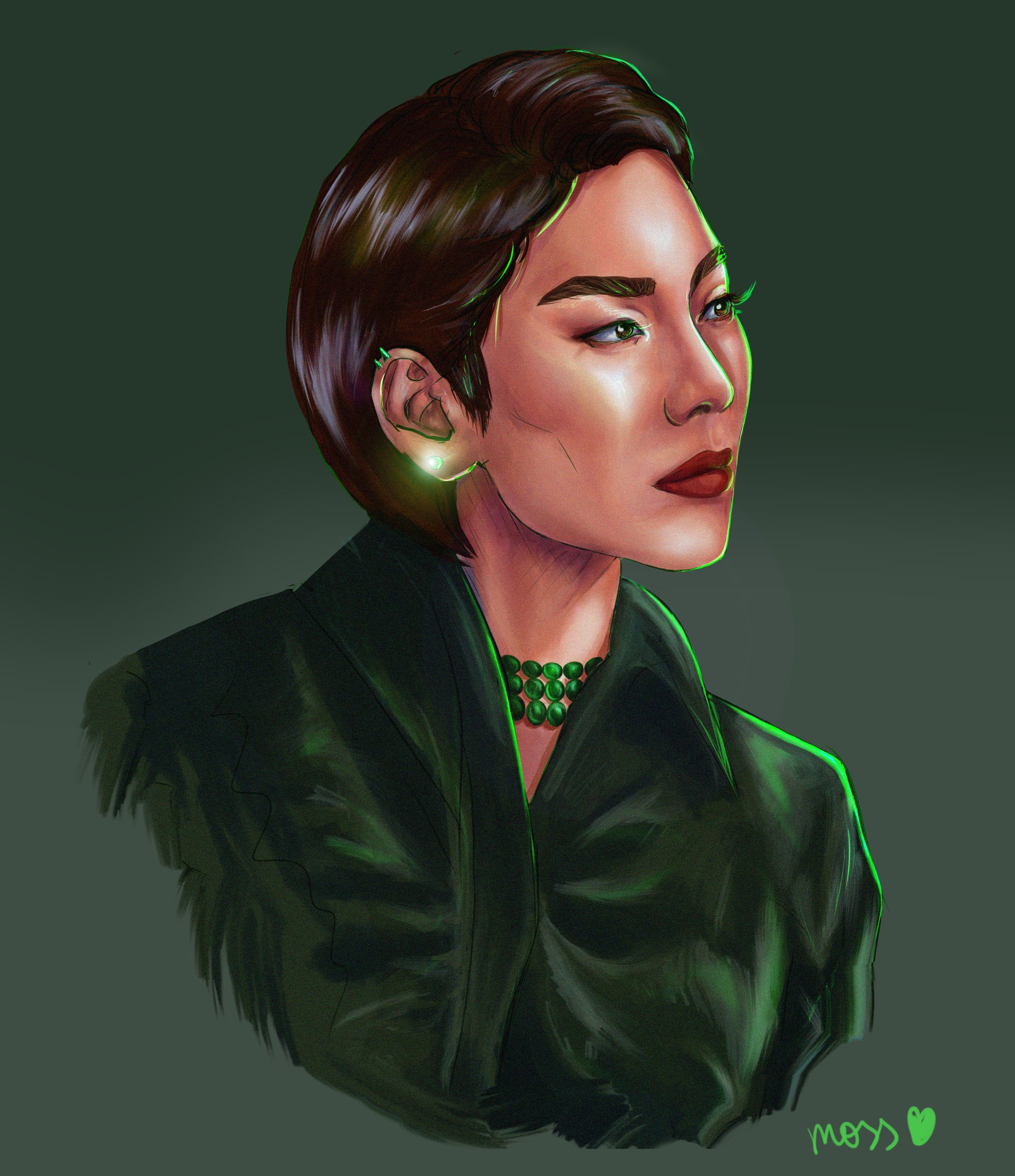 My father, Ayt Yugontin, was a great commander and heroic Green Bone warrior. But like all men, he was a product of his time and upbringing. Although he led the nation to victory against the Shotarians and then went on to play a pivotal role in rebuilding Kekon's prosperity, I nevertheless disagree with some of the choices he made. Had I been in my father's position at the time, I would've steered the clan differently, while preserving the many decisions of his that were correct. Bearing in mind my great respect for Kaul Seningtun, I would've determinedly sought a way to prevent the division of the One Mountain Society and keep the Green Bone community unified. I would've acted more proactively and aggressively to ensure jade remains solely in our control and out of the hands of grasping foreign powers. And I would've installed only the most competent and deserving Green Bones into clan leadership. Fortunately, although the decisions of the past cannot be undone, as my father's successor, I'm in a position to preserve his legacy and act in his spirit while also guiding the Mountain clan toward the future and a position of long-term strength.
Ayt Madashi art by Anna/Moss
Official character art of Lan, Hilo, Shae, Wen and Anden by Merwild.
Ayt Madashi fanart by Anna.
Aaand that was it! Thanks so much to Fonda Lee and her incredible characters. Some, if not all, of these answers made my heart melt. (Except Hilo's. That first line had me quaking in my boots.) And thanks to everyone else for helping me come up with questions for these peeps! (Even though I couldn't really ask Wen for her hand in marriage; I'm sorry, Hilo would've buried me alive and you all know it.)
Character art used in the cover and within this blog post is official art by Merwild, except for the stunning Ayt Madashi fanart is by the talented Anna. There's a ton of exceptional fanart out there of the Green Bone Saga that I deeply love, all can be found here.
If you've read this far, thank you, and I hope you've enjoyed this one. If you'd like to be notified when I post next, follow Talk of Tales and check out my socials!